In the world of content marketing, the power of storytelling is undeniable. Humans are hardwired to connect with stories on an emotional level, making storytelling a powerful tool for capturing and retaining your audience's attention. Incorporating storytelling techniques into your content marketing strategy can guide you through creating a deeper connection with your audience, conveying your brand's message more effectively, and driving engagement and conversions. In this blog post, we will explore the significant impact of storytelling in content marketing and provide valuable insights and tips on leveraging this power to your advantage.
Creating an Emotional Connection:
Storytelling allows you to create an emotional connection with your audience. By sharing relatable stories, anecdotes, or personal experiences, you can evoke emotions that resonate with your audience's desires, challenges, or aspirations. This emotional connection builds trust and loyalty, making your audience more receptive to your brand's message.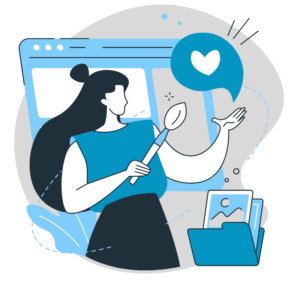 Making Your Brand Memorable:
Storytelling helps make your brand memorable. By crafting narratives highlighting your brand's values, mission, or unique selling proposition, you can differentiate yourself from competitors and leave a lasting impression on your audience. Memorable stories create a strong brand identity and increase brand recall.
Engaging and Captivating Your Audience:
Stories have the power to captivate your audience. You can draw your audience into a journey through compelling narratives, spark curiosity, and hold their attention. Engaged readers are likelier to consume your content, share it with others, and take desired actions, such as subscribing to your newsletter or purchasing.
Building Trust and Credibility:
Stories are a powerful tool for building trust and credibility. Through storytelling, you can demonstrate your expertise, share success stories, or showcase testimonials from satisfied customers. This social proof enhances your brand's credibility, making your audience more likely to trust your products or services.
Communicating Complex Information:
Storytelling is an effective way to communicate complex information and engagingly. By presenting facts, statistics, or technical details within a story, you can make them more relatable and easily understandable to your audience. Stories provide context, making it easier for readers to grasp and retain information.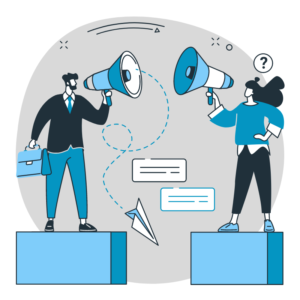 Fostering Brand Advocacy:
Your audience becomes emotionally invested in your brand when you tell compelling stories. They are more likely to become brand advocates, sharing your content with others and advocating for your brand's values. This organic word-of-mouth promotion can significantly amplify your reach and impact.
Aligning with Your Target Audience:
Effective storytelling allows you to align your brand's narrative with your target audience's values, interests, and aspirations. Understanding their needs and desires allows you to create stories that resonate deeply, positioning your brand as a trusted ally and solution provider.
Incorporating Story Elements:
To create compelling stories, incorporate key elements such as a relatable protagonist, a conflict or challenge, and a resolution. Craft narratives that take your audience on a journey, whether it's a customer success story, an origin tale of your brand, or an inspiring narrative that reflects your brand's values.
Utilizing Various Content Formats:
Storytelling can be incorporated into various content formats, including blog posts, videos, social media posts, podcasts, or case studies. Adapt your storytelling approach to suit the chosen format and platform, ensuring consistency in your brand's storytelling across different channels.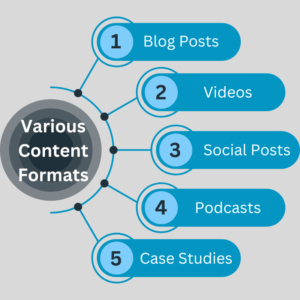 Evoking Action and Conversions:
The ultimate goal of storytelling in content marketing is to drive action and conversions. Use storytelling to guide your audience towards desired actions, whether signing up for a newsletter, downloading an eBook, or purchasing. Align the narrative of your stories with your desired conversion goals.
Storytelling is a powerful tool that can elevate your content marketing efforts. By creating an emotional connection, making your brand memorable, engaging and captivating your audience, communicating complex information, building trust and credibility, fostering brand advocacy, aligning with your target audience, incorporating story elements, utilizing various content formats, and evoking action and conversions, you can harness the power of storytelling to create impactful and successful content marketing campaigns.
https://webmaster.solutions/wp-content/uploads/2023/07/Content-Marketing-The-Power-of-Storytelling.png
628
1200
The Webmaster
https://webmaster.solutions/wp-content/uploads/2023/08/webmaster_logo_11zon.webp
The Webmaster
2022-08-21 19:00:51
2023-08-01 14:49:48
Content Marketing: The Power of Storytelling