When building a WordPress website, choosing the right plugins is essential for adding functionality and enhancing the user experience. However, you're faced with deciding whether to use free plugins or invest in premium ones. This article will explore the pros and cons of free and premium plugins, helping you decide when to select the best plugins for your WordPress website.
Pros and Cons of Free Plugins:
Pros:
Cost-Free: Free plugins are, well, free! They can be downloaded and used without any upfront cost, making them an attractive option for those on a tight budget.
Large Selection: The WordPress Plugin Directory offers various free plugins covering various functionalities. You'll find options for SEO, security, contact forms, social media integration, and more.
Community Support: Free plugins often have an active community of users who provide support, updates, and troubleshooting assistance.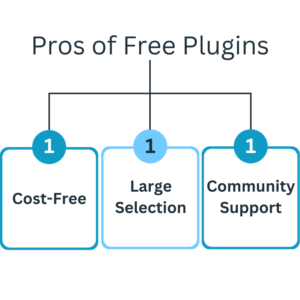 Cons:
Limited Features: Free plugins may need more functionality than their premium counterparts. They may need more advanced features or customization options, which can restrict the level of customization you desire.
Quality and Reliability: Not all free plugins undergo the same quality control and testing level as premium plugins. Some free plugins may need better coding, leading to compatibility issues or potential security vulnerabilities.
Limited Support: While community support is available for free plugins, it may be less comprehensive and timely than the support provided by premium plugin developers.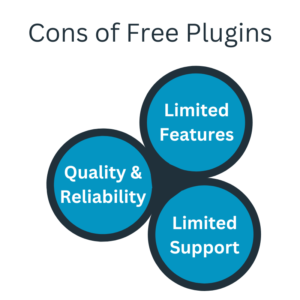 Pros and Cons of Premium Plugins:
Pros:
Advanced Features: Premium plugins often offer a wider range of features, customization options, and advanced functionality. They are designed to meet specific needs and provide more comprehensive solutions.
Regular Updates and Support: Premium plugins typically have regular updates, bug fixes, and security patches. Developers offer dedicated support to assist with troubleshooting, customization, and addressing any issues that may arise.
Higher Quality and Reliability: Premium plugins undergo more rigorous testing and quality control measures, ensuring a higher level of reliability, compatibility, and overall performance.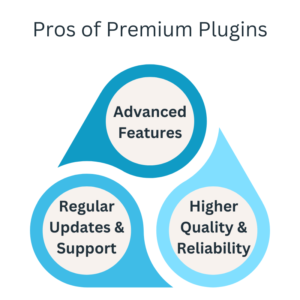 Cons:
Cost: Premium plugins come at a cost, with prices varying depending on the plugin's complexity and capabilities. Cost can add to your overall website development budget.
Learning Curve: Premium plugins often have more advanced features and customization options, possibly requiring a learning curve to utilize and configure fully. They may have more extensive documentation and tutorials to assist with the setup and customization.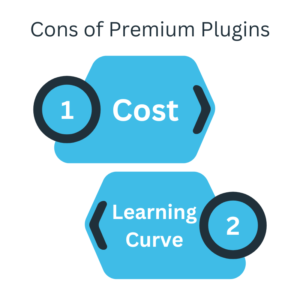 When choosing between free and premium plugins for your WordPress website, consider your specific needs, budget, and level of customization required. Free plugins offer a cost-effective solution with a wide selection, but they may need more advanced features and extensive support. On the other hand, premium plugins provide more comprehensive functionality, reliable support, and regular updates, but at a price. It's important to assess the pros and cons based on your website's requirements and choose plugins that best align with your goals and budget.
https://webmaster.solutions/wp-content/uploads/2023/07/Free-vs.-Premium-Plugins-Pros-and-Cons.png
628
1200
The Webmaster
https://webmaster.solutions/wp-content/uploads/2023/08/webmaster_logo_11zon.webp
The Webmaster
2022-07-19 19:00:05
2023-08-01 15:07:22
Free vs. Premium Plugins: Pros and Cons