In web design and digital marketing, Call-To-Action (CTA) buttons drive user engagement, increase conversions, and ultimately boost sales. In this blog post, we will explore the significance of CTA buttons, their visual appearance, and how they add value to websites by encouraging user actions and generating leads.
What are Call-To-Action Buttons?
Call-To-Action buttons are strategically placed elements on a website that prompt users to take a specific action. They serve as clear and compelling invitations for visitors to engage with a brand, purchase, subscribe to a newsletter, request a quote, or perform any desired action that aligns with the website's objectives.
The Visual Appearance of CTA Buttons:
CTA buttons are designed to stand out and grab the attention of website visitors. They typically exhibit the following visual characteristics:
a) Contrasting Colors: CTA buttons often use colors that contrast with the website's color scheme to make them highly visible and easily noticeable.
b) Clear and Concise Text: CTA button text should be concise, action-oriented, and specific. Examples include "Buy Now," "Sign Up," "Download Now," or "Get Started."
c) Bold and Readable Fonts: The text on CTA buttons should be displayed using bold, easy-to-read font, even in smaller sizes.
d) Engaging Design: Incorporating graphical elements, such as arrows or icons, can enhance the visual appeal of CTA buttons and make them more enticing to click.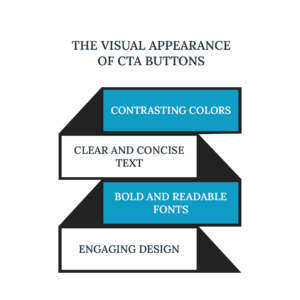 Increasing Sales and Generating Leads:
CTA buttons are powerful tools for driving sales and generating leads. Here's how they add value to websites:
a) Encouraging Conversions: CTA buttons provide a clear pathway for visitors to take the desired action. By strategically placing them in prominent positions on your website. You guide users toward the next step in their customer journey, increasing the likelihood of conversions.
b) Fostering User Engagement: Well-designed CTA buttons capture users' attention and compel them to interact with your website. Whether purchasing, subscribing to a service, or filling out a contact form, CTAs encourage users to engage actively with your brand.
c) Directing User Behavior: Using persuasive and actionable language, CTA buttons guide users towards specific actions that align with your business objectives. They direct users to perform the desired action, reducing friction and making it easier for them to convert.
d) Tracking Performance: CTA buttons can be tracked using analytics tools, providing valuable insights into their effectiveness. You can fine-tune your CTAs to optimize performance and drive better results by analyzing click-through rates, conversion rates, and user behavior.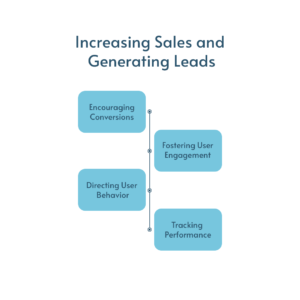 Best Practices for Effective CTA Buttons:
To maximize the impact of your CTA buttons, consider the following best practices:
a) Placement: Position CTAs strategically in visible areas of your website, such as the header, sidebar, or above-the-fold sections.
b) Clarity and Simplicity: Ensure your CTA text is concise, compelling, and easy to understand. Avoid ambiguity and provide clear instructions on what users can expect when they click the button.
c) Urgency and Persuasion: Created a sense of urgency by using phrases like "Short Time Offer" or "Act Now." Incorporate persuasive language to encourage immediate action.
d) A/B Testing: Test different variations of your CTA buttons to determine which design, placement, or text yields the highest conversion rates. Continuously optimize based on data-driven insights.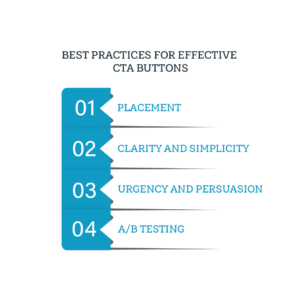 Conclusion:
Call-To-Action buttons are powerful tools that drive user engagement, increase conversions, and generate leads. By strategically designing and placing compelling CTAs on your website. You can guide visitors toward specific actions, increase sales, and achieve your business goals. At Webmaster Solutions, we specialize in optimizing websites with effective CTAs that deliver tangible results. Contact us to leverage the power of CTAs and enhance your website's performance and conversions.
https://webmaster.solutions/wp-content/uploads/2022/06/The-Power-of-Call-To-Action-Buttons-Driving-Sales-and-Conversions.png
800
800
The Webmaster
https://webmaster.solutions/wp-content/uploads/2023/08/webmaster_logo_11zon.webp
The Webmaster
2022-06-23 14:59:25
2023-06-17 09:08:05
The Power of Call-To-Action Buttons: Driving Sales and Conversions