In the digital age, understanding the behavior of your website visitors is key to optimizing your online presence. Google Analytics is a robust and indispensable tool providing valuable insight into your website's performance. In this blog post, we will explore the importance of Google Analytics, its benefits in monitoring website visitor traffic, and how it adds value to SEO, social media campaigns, and advertisement campaigns.
Comprehensive Website Insights:
Google Analytics offers rich information about your website's performance and visitor behavior. By putting a tracking code in your website, you can gain insights such as:
a) Website Traffic: Track the number of visitors to your website, their arrival (e.g., organic search, referral, social media), and geographical location.
b) User Behavior: Understand how users navigate your website, which pages they visit, how long they stay, and where they exit. This information helps identify areas for improvement and optimize user experience.
c) Conversion Tracking: Set goals and track conversions, such as completed purchases, form submissions, or newsletter sign-ups. This data lets you measure your marketing efforts' effectiveness and identify improvement areas.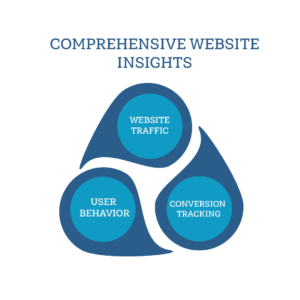 Data-Driven Decision-Making:
With Google Analytics, you can make informed decisions based on data rather than assumptions. The insights gained from analyzing website traffic can help you:
a) Identify High-Performing Pages: Determine which pages receive the most traffic, have the highest engagement, and drive the most conversions. Focus on optimizing these pages to maximize their impact.
b) Spot Performance Issues: Discover pages with high bounce rates or low engagement. This indicates potential issues needing attention, such as slow-loading pages, confusing layouts, or irrelevant content.
c) Track Campaign Performance: Measure the effectiveness of your SEO, social media, and advertisement campaigns. Identify which channels drive the most traffic, conversions, and engagement. This data allows you to allocate resources more effectively and refine your marketing strategies.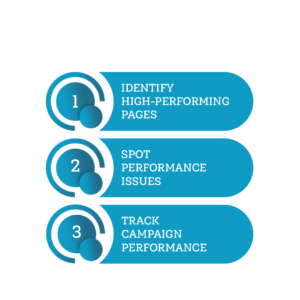 Enhancing SEO Efforts:
Google Analytics and SEO go hand in hand. By utilizing the data and insights from Google Analytics, you can:
a) Monitor Organic Search Traffic: Analyze the keywords and search terms that drive organic traffic to your website. Identify top-performing keywords and optimize your content to improve organic search rankings.
b) Track Referral Traffic: Understand which websites or online platforms refer traffic to your site. This information helps identify valuable referral sources and build partnerships or optimize campaigns to increase traffic from those sources.
c) Analyze Landing Pages: Determine the landing pages with the most organic traffic and high bounce rates. Optimize these pages with relevant keywords, compelling content, and clear calls to action to improve user engagement and conversion rates.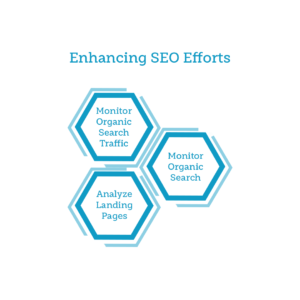 Evaluating Social Media Campaigns:
Google Analytics provides valuable insights to measure the effectiveness of your social media campaigns. With Google Analytics, you can:
a) Track Social Media Traffic: Identity which social media platforms drive heavy traffic to your website. Focus your efforts on platforms that generate the highest-quality traffic and engagement.
b) Measure Campaign Goals: Set up campaign tracking in Google Analytics to analyze the results of specific social media campaigns. Measure metrics such as clicks, conversions, and engagement to evaluate the success of your campaigns.
c) Understand User Behavior: Analyze how social media users interact with your website. Track their paths, behaviors, and conversions to refine your social media strategies and optimize user journeys.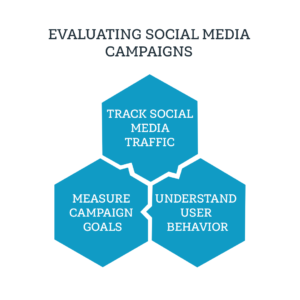 Assessing Advertisement Campaigns:
Google Analytics is invaluable for assessing the performance of your online advertisement campaigns. With Google Analytics, you can:
a) Measure Campaign ROI: Determine the effectiveness of your advertising spend by tracking the traffic, conversions, and revenue generated by your ads. Identify campaigns that deliver the highest return on investment and optimize accordingly.
b) Refine Targeting: Analyze user demographics and behavior to understand which audiences respond best to your ads. Use this data to refine your targeting strategies and allocate your advertising budget more effectively.
c) Optimize Ads Landing Pages: Evaluate the performance of landing pages linked to your ads. Recognize pages with high bounce rates or low conversion rates and optimize them to improve user experience and increase conversions.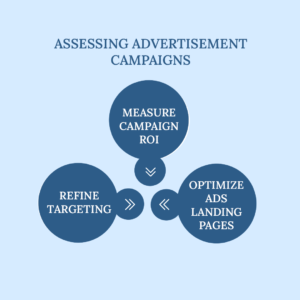 Conclusion:
Google Analytics is a wealthy tool that gives invaluable insights into website visitor traffic, user behavior, and the effectiveness of marketing campaigns. By leveraging its features, you can make data-driven decisions, optimize your website, improve SEO efforts, evaluate social media campaigns, and assess advertisement performance. At Webmaster Solutions, we specialize in utilizing Google Analytics to drive business growth and success. Contact us to leverage the power of Google Analytics and unlock the full potential of your website and digital marketing initiatives.
https://webmaster.solutions/wp-content/uploads/2022/06/Unleashing-the-Power-of-Google-Analytics-Maximizing-Website-Insights.png
800
800
The Webmaster
https://webmaster.solutions/wp-content/uploads/2023/08/webmaster_logo_11zon.webp
The Webmaster
2022-06-18 19:00:37
2023-07-31 15:14:44
Unleashing the Power of Google Analytics: Maximizing Website Insights