Businesses must have a strong web presence, as the competition in this vast digital environment is fierce. A well-designed website logo plays a pivotal role in representing your brand and creating a memorable impression on your target audience. In this blog post, we will explore the benefits of having a website logo, how to select the right logo for your company, and the various types of logos suitable for different businesses.
Why is a Website Logo Important?
A website logo is the face of your brand. It serves as a visual representation of your company's identity, values, and mission. Here are some key benefits of having a well-crafted logo:
a) Brand Recognition: A professionally designed logo helps create a memorable and recognizable brand. It lets your audience instantly associate your logo with your business, increasing brand recall and fostering trust.
b) Differentiation: A unique logo distinguishes your brand from competitors in a crowded marketplace. It allows you to showcase your brand's personality, values, and USP, helping you stand out in the minds of your potential customers.
c) Professionalism: A well-designed logo lends credibility and professionalism to your business. It demonstrates that you value your brand's image and invest in delivering a quality experience to your customers.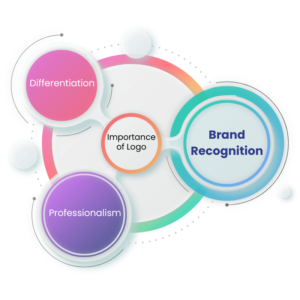 Selecting the Right Logo:
When selecting a logo for your company, it's essential to consider the following factors:
a) Reflect Your Brand: Your logo should align with your brand's identity, values, and target audience. It should convey the essence of your business and evoke the desired emotional response.
b) Versatility: Your logo should be adaptable and scalable, allowing for consistent use across various platforms, such as websites, social media, print materials, and merchandise.
c) Simplicity: A simple and clean logo tends to be more memorable and versatile. Avoid cluttering your logo with excessive details that may hinder its scalability and recognition.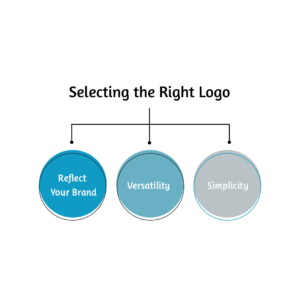 Types of Logos:
Different types of logos can be suitable for various businesses:
a) Wordmark/Logotype: This type of logo consists of the company name in a stylized and unique typography. It works well for businesses with distinctive names or those aiming to emphasize their name as the main brand element.
b) Symbol/Icon: Symbol logos use a visually appealing graphic or symbol that represents the brand. They are ideal for creating a strong visual identity. They can be particularly effective when the symbol becomes synonymous with the brand.
c) Combination Mark: Combination marks incorporate text and a symbol/icon. Depending on the context, they offer flexibility and can be used with or without the text. This type of logo suits businesses aiming to convey their name and visual representation simultaneously.
d) Lettermark/Initials: Lettermark logos use the initials or acronym of the brand's name to create a unique and recognizable logo. They work well for companies with long or complicated names, condensing them into a visually appealing representation.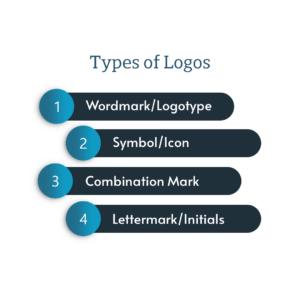 Choosing Colors for Your Logo:
Colors play a very important role in evoking emotions and conveying brand messages. When selecting colors for your logo:
a) Consider Brand Personality: Choose colors that align with your brand's personality and values. For example, blue can evoke trust and reliability, while red can represent passion and energy.
b) Maintain Simplicity: Limit the colors in your logo to maintain simplicity and avoid overwhelming your audience. Using two to three colors is generally recommended.
c) Contrast and Legibility: Ensure your chosen colors provide sufficient contrast and legibility, allowing your logo to be easily recognized across different backgrounds and mediums.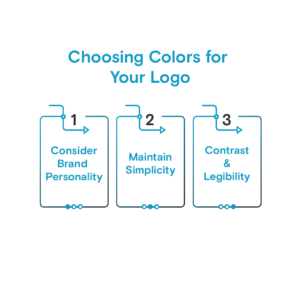 Development and Elements of a Logo:
When developing your logo, keep the following considerations in mind:
a) Consistency: Your logo should be consistent with your overall brand identity, including fonts, colors, and design elements. This consistency helps in creating a cohesive and professional image for your business.
b) Scalability: Ensure your logo is scalable without losing its quality or legibility. It should look equally appealing whether displayed on a large billboard or a small business card.
c) Uniqueness: Aim for a logo that stands out and is distinctive from competitors. Conduct thorough research to ensure your logo is distinct from any existing logos in your industry to avoid confusion and legal issues.
d) Storytelling: While not necessary, incorporating a subtle story or symbolism within your logo can add depth and intrigue to your brand. It helps your audience connect with your company on a more personal level.
Signature Style Logos:
Signature-style logos are a variation of the wordmark logo where the typography is handcrafted to resemble a unique signature. These logos can be particularly effective for personal brands, creative businesses, or businesses that want to convey a sense of individuality and personal touch.
Utilizing Logos in 3D Layouts and Print Materials:
While 3D-style logos can add depth and visual interest, it's essential to consider their practicality for printing purposes. Complex 3D effects may not reproduce well on physical materials like letterheads and business cards. It's crucial to balance visual appeal and practicality when using 3D-style logos.
Lego Dimensions and Shape:
Logo dimensions can vary based on the context of its usage. However, it's advisable to have a logo that can be easily adapted into both square and rectangular formats. A square logo is ideal for social media profile pictures and mobile app icons. In contrast, a rectangular logo works well for website headers, banners, and printed materials.
Conclusion:
A well-crafted logo is the cornerstone of your brand's identity. It plays a vital role in establishing recognition, differentiation, and professionalism. By selecting the right logo type, incorporating suitable colors, and considering essential design elements, you can create a powerful and memorable logo that resonates with your target audience. At Webmaster Solutions, we understand the importance of a compelling logo and offer exceptional logo crafting and design services. Contact us to get started on creating a fabulous logo that represents your brand effectively.
Remember, your logo is not just an image; it embodies your business and its values. Investing in a powerful logo will help you to make a lasting impact on your clients and stand out in the digital landscape.
https://webmaster.solutions/wp-content/uploads/2023/06/Importance-of-a-website-logo.png
800
800
The Webmaster
https://webmaster.solutions/wp-content/uploads/2023/08/webmaster_logo_11zon.webp
The Webmaster
2022-06-14 19:00:42
2023-08-01 15:11:12
The Importance of a Website Logo: Crafting Your Brand's Identity