When it comes to website creation and management, WordPress has emerged as a leading platform, empowering individuals and businesses of all sizes to establish a powerful online presence. In this blog, we will explore the diverse applications of WordPress, who can benefit from its features, how it can be scaled up to meet the needs of growing businesses and the advantages it offers to big enterprises. By the end of this article, you will clearly understand how it can be a valuable tool for your website, whether you choose to DIY or seek professional assistance.
Who Uses WordPress?
WordPress is not limited to any specific user group but is embraced by a vast community that includes bloggers, freelancers, small business owners, nonprofits, creative professionals, and even large enterprises. It has evolved into a variable content management system(CMS) that caters to many users. It can accommodate your needs whether you are a solopreneur starting a personal blog or a multinational corporation seeking an enterprise-level solution.
Types of Websites that WordPress allows you to create
WordPress is highly flexible and adaptable, allowing the creation of various types of websites. The possibilities are endless, from simple blogs, business websites, e-commerce stores, portfolio sites, and membership sites to news portals and online communities. Its extensive theme library and customizable features suit virtually any website concept. Let's delve into a few examples:
Blogging Websites: WordPress's origins lie in blogging, which continues to be a popular choice for bloggers worldwide. With its user-friendly interface and a wide selection of blogging-focused themes and plugins. WordPress provides an excellent CMS for content creators to share their thoughts and engage with their audience.
Business Websites: Small businesses, startups, and local enterprises can leverage WordPress to establish an effective online presence. With themes specifically designed for businesses, you can showcase your products, services, and company information professionally and visually appealingly.
E-commerce Stores: WordPress, in combination with the WooCommerce plugin, enables the creation of powerful online stores. You can customize your shopping experience, sell digital or physical products, manage inventory and payments, and customize how you shop to suit your business needs.
Portfolio Sites: Artists, photographers, designers, and creative professionals can showcase their work using WordPress. With its wide range of portfolio-focused themes, customizable galleries, and multimedia support, WordPress offers a visually stunning platform to highlight your creative endeavors.
Scaling Up with WordPress
One of the remarkable aspects of WordPress is its ability to scale alongside your business growth. It can accommodate your evolving needs, whether you start with a small website or have expansion plans. As your business grows, you can add new pages, incorporate advanced features, and expand your website's functionality. With its robust plugin ecosystem, you can integrate CRM systems, lead generation tools, analytics platforms, and more to enhance your website's capabilities.
Benefits of WordPress for Big Businesses
Contrary to popular belief, WordPress is open to more than small-scale projects. Big enterprises can harness the power of WordPress to build and manage their digital presence. Here are some key advantages for big businesses:
Flexibility and Customization: WordPress offers unparalleled flexibility, allowing businesses to customize their website's design, features, and functionalities. With access to thousands of themes and plugins, you can tailor your website to align. With your brand identity and create a unique online experience for your customers.
Scalability and Performance: WordPress can handle high traffic volumes and complex websites, making it suitable for enterprise-level requirements. It can deliver excellent performance even under heavy loads with proper optimization, caching mechanisms, and hosting infrastructure.
Multisite Management: Big businesses often require multiple websites for various brands, divisions, or geographical locations. WordPress's multisite feature enables centralized management of multiple websites from a single dashboard, streamlining updates, security, and content management.
Collaboration and User Management: WordPress provides robust user management capabilities, allowing big businesses to assign different roles and permissions to team members. Collaboration and User Management ensure controlled access to website resources, collaboration on content creation, and streamlined workflows.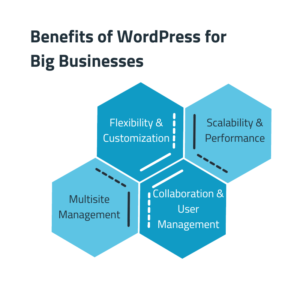 WordPress has cut across its origins as a blogging platform. To become a powerful CMS that caters to the needs of personal, small businesses, and big enterprises alike. Whether you are a blogger, an entrepreneur, or a corporate entity, it offers the versatility, scalability, and customization options to bring your vision to life. You can DIY your website using the vast resources available. Or you can seek professional assistance to create a tailor-made solution that aligns with your goals. Embrace the power of WordPress, and unlock endless possibilities for your online presence. Contact us to build your amazing website on WordPress.
https://webmaster.solutions/wp-content/uploads/2022/06/The-All-in-One-Solution-How-WordPress-Empowers-Websites-of-All-Sizes.png
628
1200
The Webmaster
https://webmaster.solutions/wp-content/uploads/2023/08/webmaster_logo_11zon.webp
The Webmaster
2022-06-26 19:00:17
2023-07-31 15:14:02
WordPress Empowers Websites: The All-in-One Solution