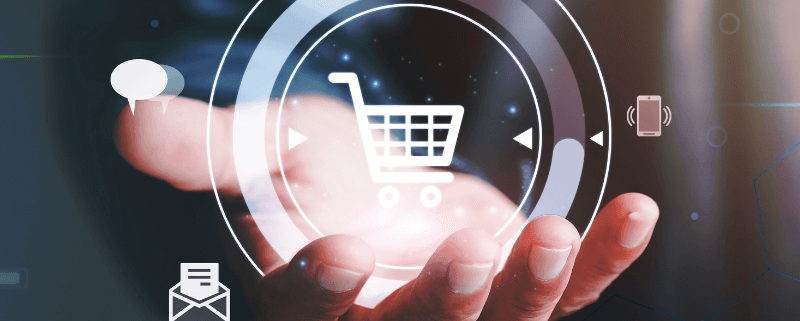 Building Your Brand's Online Identity: A Roadmap to Success
In today's digital era, establishing a strong online identity is very important for businesses of all sizes. For small businesses, a robust online presence can open doors to new opportunities and attract a wider audience. In this article, we will delve into the do's and don'ts of building an online reputation for your business and explore the benefits of having a website as a foundational element in establishing your brand's online identity.
The Power of a Website:
A website is the first step toward building your brand's online identity. Here are the key benefits a website can bring to your business:
a) Increased Visibility: A website acts as a virtual storefront, making your business accessible to anyone with an internet connection. It allows real customers to find you easily through search engines and online directories.
b) Credibility and Professionalism: A well-designed website instills trust and credibility in your brand. It gives a platform to showcase your products or services, share testimonials, and highlight your expertise.
c) Targeted Marketing: With a website, you can implement digital marketing strategies such as SEO (Search Engine Optimization), content marketing, and social media integration to reach and engage your real audience more effectively.
d) 24/7 Availability: Unlike a physical store with limited operating hours, a website allows potential customers to explore your offerings anytime, increasing sales opportunities.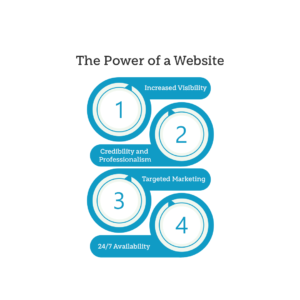 The Do's of Building Your Online Reputation:
To build a strong online identity, consider the following best practices:
a) Consistent Branding: Maintain consistency across all online platforms, including your website, social media profiles, and online listings. Use consistent branding elements such as logos, colors, and messaging to reinforce your brand's identity.
b) Engaging Website Design: Invest in professional website design that reflects your brand's personality and engages your target audience. Ensure your website is mobile-friendly, easy to find, and visually appealing.
c) Compelling Content: Create high-quality, informative, and engaging content that aligns with your real audience's interests. Publish regular blog posts, articles, videos, and other forms of content to establish your brand as an industry thought leader and drive organic traffic to your website.
d) Search Engine Optimization (SEO): Implement SEO techniques to improve your website's visibility in search engine rankings. Optimize your website's structure, meta tags, and keywords, and create relevant and authoritative backlinks to increase organic traffic.
e) Online Reviews and Testimonials: Encourage satisfied customers to leave positive reviews and testimonials on popular review platforms. Monitor and respond promptly to customer feedback to showcase your commitment to excellent customer service.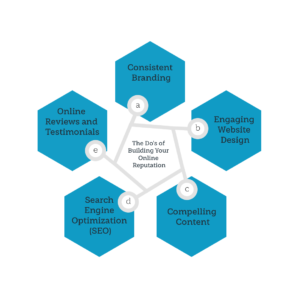 The Do Not's of Building Your Online Reputation:
Avoid the following pitfalls that can hinder your online reputation:
a) Inconsistent Online Presence: Inconsistent branding, outdated information, and inactive social media profiles can create a negative impression. Maintain an active and consistent online presence across all relevant platforms.
b) Ignoring Negative Feedback: Address negative feedback promptly and professionally. Responding with empathy and finding solutions can turn a negative experience into a positive one and demonstrate your dedication to customer satisfaction.
c) Overlooking Local Directories: Ensure your business is listed accurately on popular online directories, such as Google My Business, Yelp, and Yellow Pages. Local directories enhance your visibility and provide potential customers with essential information about your business.
d) Neglecting Social Media Engagement: Social media platforms allow you to link directly with your audience. Avoid ignoring comments, messages, or questions from followers. Engage with your audience regularly to foster relationships and build trust.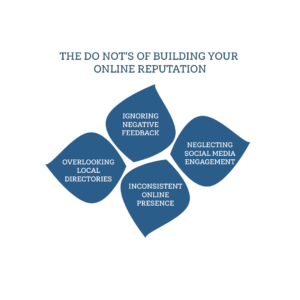 Attracting Good Clients and Targeted Audience:
Building a strong online identity can attract valuable clients and a targeted audience. Here are some strategies to help you attract good clients and a targeted audience:
a) Define Your Target Audience: Clearly identify your target audience based on demographics, interests, and needs. Tailor your website content, social media posts, and marketing campaigns to resonate with your ideal clients.
b) Content Marketing: Create and share valuable content that addresses your target audience's pain points, offers solutions, and showcases your expertise. This positions your brand as a trusted resource and attracts interested clients.
c) Search Engine Optimization (SEO): Optimize your site and content to get a higher rank in search engine results for relevant keywords. This increases your visibility to potential clients actively searching for your products or services.
d) Paid Advertising: Utilize targeted online advertising platforms, such as Google Ads or social media advertising, to reach the real audience based on demographics, interests, and behavior. This allows you to display your ads to those most likely interested in your business.
e) Networking and Partnerships: Build relationships with complementary businesses or influencers in your industry. Collaborate on joint projects, cross-promotions, or guest blogging to expand your reach and attract clients from their networks.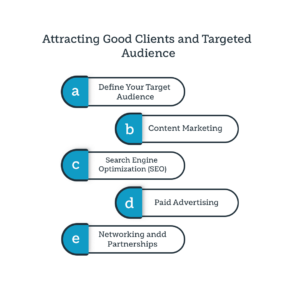 Building a Strong Online Identity for Small Businesses:
Building a strong online identity is essential for the growth and success of small businesses. It allows you to compete on a level playing field with larger competitors. Here are key considerations for small businesses:
a) Showcase Your Unique Selling Proposition (USP): Clearly communicate your unique strengths and advantages to differentiate yourself from competitors. Highlight what sets your business apart and why potential clients should choose you over others.
b) Leverage Local SEO: Optimize your website and online presence for local search if your business primarily serves a local audience. This includes adding location-based keywords, creating local business listings, and gathering positive reviews from satisfied local customers.
c) Engage with Your Audience: Actively engage with your audience through social media, blog comments, and email marketing. Respond to inquiries promptly, provide helpful information, and build relationships with your audience to establish trust and loyalty.
d) : Craft a consistent brand message that resonates with your real audience and reflects your brand's values and mission. Consistency builds trust and helps clients recognize and remember your brand.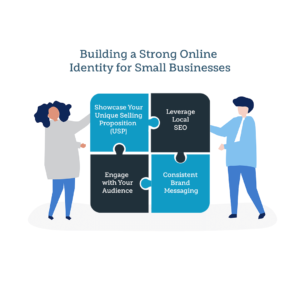 Conclusion:
Building a strong online identity is crucial to business success in today's digital landscape. By following the do's and don'ts of online reputation building and leveraging the power of a well-designed website, small businesses can attract clients and effectively reach their targeted audience. At Webmaster Solutions, we specialize in helping businesses establish their online presence and create a strong brand identity. Contact us to get started on building your brand's online identity and attracting clients that will contribute to your business's growth and success.
https://webmaster.solutions/wp-content/uploads/2023/06/Building-Your-Brands-Online-Identity-A-Roadmap-to-Success.png
800
800
The Webmaster
https://webmaster.solutions/wp-content/uploads/2023/08/webmaster_logo_11zon.webp
The Webmaster
2022-06-14 19:00:29
2023-08-01 15:11:22
Building Your Brand's Online Identity: A Roadmap to Success